Are you one of those tired, unhealthy, stressed, frustrated, overwhelmed and often overweight women?
Have you tried every single known diet, recipes, pills,   portions and other fad "solution" known to man?
Are you on a mission to get back into your college jeans, and look and feel energetic and sexy again, but, to no avail?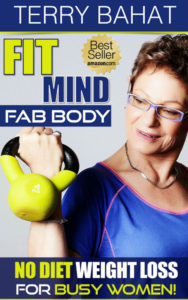 This book has been written to help you finally have the courage, commitment and the appropriate steps, to truly love yourself and live on your own terms. To have a healthy, happy life; a life that is long, rich, fulfilling, vibrant, full of energy and excitement!
I firmly believe that there is a close link between the mind (your thinking, attitude, limiting beliefs, fears, desires, expectations, aspirations) and the body.
So, the sooner we change our thinking and attitude, the sooner the physical, personal transformation will begin.
Mind-Set is key in the process of changing our body. WE are our greatest resource. WE choose the fruit or the cake, WE are those who do or don't get up early for a run and WE are those who stay with the physical plan long term or give up two days or two weeks into the process.
There is no need to make the process of getting fit harder than it needs to be. The sooner you stop looking for someone or something to fix you, the sooner you'll move closer towards achieving the life you want not just the life you know.
If you are, genuinely, ready to do whatever it takes to create the change you desire, welcome to the Fit Mind Fab Body Club!
I have been, passionately, helping stressed, tired, depressed, often overweight women for over 10 years, using my army service training and my vast, versatile experience coupled with extensive academic studies.
So, what can you expect to get when you read my book?
Simple, effective top tips, tools and strategies for weight reduction, confidence and self-esteem building, that can positively impact your entire life.
Explore how you, too, can use 100% of your mind instead of merely 10%, for your fat loss journey, while increasing your confidence and self-esteem.
How to successfully adopt crucial health elements such as sleep patterns, stress strategies, and more.
You will be amazed to discover how Happiness is entirely a choice. Your choice.
Reveal the Fab Body Magic Formula, and how strengthening your Emotional Immunity with Emotional
Rescue fundamentals can assist you in weight reduction and fat loss.
If struggling with Self-Love is a challenge for you, learn how to develop Assertiveness and, finally, 'conquer' Procrastination for good.
Discover 25 exciting Get Fit and Fab insights and life-lessons, such as Gratitude, practicing Self-Love in front of a…mirror, A.N.T.S…what are they? These Pearls of Wisdom will make your journey of fat loss, personal transformation and motivation, proudly, last for good, in a simple, Fun way.
All through the chapters you will find various, useful Action Steps and top tips to weight loss, motivation and breakthrough strategies for developing your healthy mind set. These are steps and tips you can, immediately, implement on your fat loss journey, to create the life you are born to live.
Imagine   being constantly complimented on how great you look and function, being asked how, magically, did you do it… and,
Imagine   enjoying the added benefits of high energy, solid confidence and self esteem, ready to meet any challenge life may present to you, while knowing that you're getting healthier, fitter and stronger in Body and Mind every day…
Reaching Fit Mind Fab Body never seemed so doable and, yes, enjoyable, too.
Are you, finally, ready for the New, Fit, Fab You?
See you on the inside….